About Webby360
The Trusted

Digital

Marketing

Agency
Webby360 is a digital marketing solutions provider with a dedicated team passionate about helping businesses succeed. Our expertise includes SEO generation, social media strategies, brand management, paid search campaigns, digital marketing, internet marketing, website development and the ability to customize approaches for businesses to stand apart from their competitors.
We are professional web strategists that will help you align your website and other tools to your desired market. Your business goals become our business goals and we develop a plan that is specific to your needs, enhance visibility and get you targeted leads. Brand strategy encompasses constant monitoring, a process that Webby360 is prepared to do and also forecast future trends for your specific brand.
You can trust Webby360 to deliver the best results for your business.
Webby360 is a web design marketing agency with a client-centred approach. We are passionate about creativity and technology and aim to deliver all client projects with a standard of excellence and professionalism. We believe that every client is unique and should be treated as such. In order to fully understand our clients, we conduct a business analysis in order to customize their online product development with a digital marketing approach.
Who we are
Methods

of

Webby
You can trust our methods of SEO, web design, PPC, social, SMS, and email strategies because we use scientifically tested techniques for these. The team we have in each department is exceptional and our project managers handle every project carefully. We understand every brand is of different nature and have managed to develop excellent strategies to enhance brand visibility every single time with real organic searches.
Here we get to understand your business and what you have done in the past from a marketing perspective, and whether it was successful or not.
It is essential for us to understand and identify past and current challenges that have caused you set backs in reaching your ultimate goals and objectives.
We provide and develop solutions to alleviate your challenges. Developing the strategy is a very collaborative process. We want to make sure that our clients are involved in the creative process in order to develop and deliver a high performing customized marketing machine.
Whether it be a website or a marketing campaign, here setup is complete and we launch! Your brand is launched into the digital marketing space so you can reach your specific objectives.
It is crucial that we assist our clients to make the best business decisions. We track and measure the performance of the website or online marketing campaigns using the industry standard tracking tool, Google Analytics. We also provide feedback on how to continue to improve the campaigns over time. Everything web is our focus from getting your presence registered online and working to maintain an enviable position among your close competitors. We are proud of what we can offer because of our passion for excellence. Webby360 does not just work to complete your project, we strive to make you a permanent client who will recommend our services to others. At Webby360, we cater to all business categories ranging from small, medium or large. Our ultimate objective is achieving your goals through an online medium.
We do not make you wait for the positive results till the last date of the contract. One of our x-factors is that we have managed to cultivate the proof of success soon after our first campaign.
Why Webby360
Why Choose

Webby360?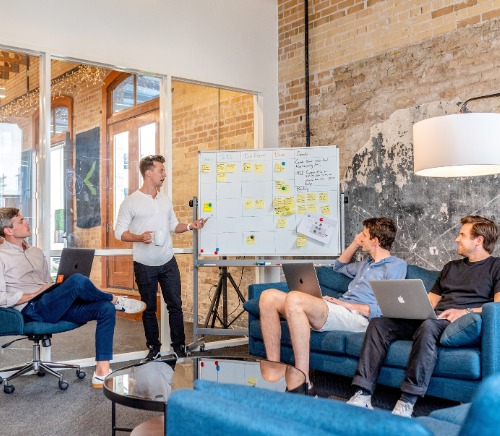 Schedule a Meeting

to Grow your Business