Tips to Successfully Work From Home during the COVID-19 Pandemic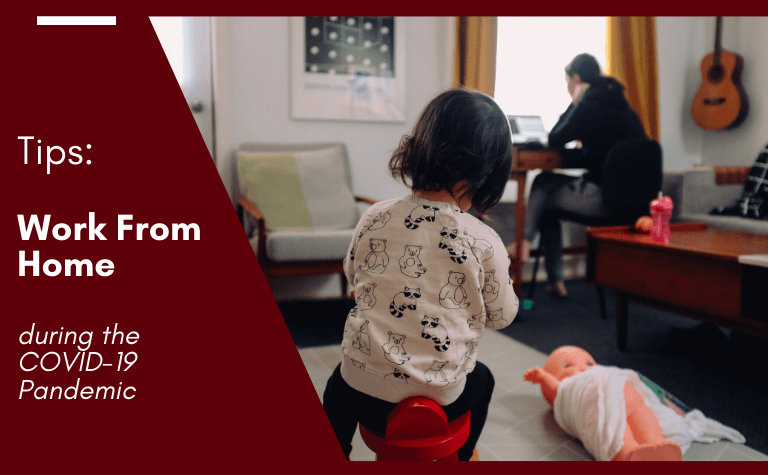 During the COVID-19 pandemic, many companies had to implement mandatory or voluntary work from home policies with little time to prepare their workforce for this abrupt change, unless work from policies were already part of the company structure.
Before the pandemic some considered working from home to be less stressful, the idea of avoiding the daily commute a relief, less concern about workplace conflicts, as well as being close to family, a good idea.
How do employees feel now after working from home for a few months? Has the novelty worn off? What challenges are employees facing?
Here are 6 tips to manage working from home:
Remote work is new for some companies and employees need to manage their time and prioritize tasks during increased screen time.
Maintaining a schedule is important, short breaks, and including physical activity 15 to 20 minutes to release endorphins. A great way to increase your mood.
Read on to learn more tips!
1. Prepare to go to work
This might be a simple tip, but it's a crucial one. You don't need to dress as formally as you might for work, but the act of changing clothes indicates that it's time to wake up and get work done. Stick to your morning routine like you normally would.
Take a shower, brush your hair, or even put on makeup if that's what you usually do. Waking up and taking care of your appearance can go a long way toward helping you feel like you're taking care of yourself and work.
2. Have a Dedicated Work Area
Create a dedicated work space, whether it's a separate room, low-traffic corner or an office space. Your comfy lounger, a bed or your couch may or may not be an ideal place to work. Having a dedicated place is important as it will help you get into the right frame of mind, stick to a schedule and normalize working from home if you are not used to it.
Your work area should be comfortable and as similar as possible to your normal working environment to help you focus.
3. Define Your Working Hours
Just as you designate your physical workspace, you should be clear about when you are working and when you are taking a break. You'll get your best work done and your transition back to the office will be easier if you stick with your regular working hours.
The primary goal is to remain as productive as you were in the office, not just sit in a chair for that long. By working from home, you are saving a tremendous amount of time in other areas.
You might also be tempted by chores throughout the day. You don't have to ignore them and think of it as a mini-break.
4. Set Intermediate Work Goals
To ensure productivity, set short-term and long-term goals for your work. Adding more calendar reminders or a to-do list app will help keep you on track of work, map out your day and achieve the goals you set out for yourself.
5. Avoid Distractions
Distraction is one of the biggest challenges faced by employees who work from home, especially if you aren't used to it. Usually thinking about getting home after work is quite the opposite for some, so it's human to get distracted. But you will have to decide how much you let yourself get distracted.
You probably take a few breaks throughout the day in office, and that is fine at home, too.
Nowadays, the news is the biggest distraction with COVID-19 updates. It is good to stay informed, but could cause anxiety for some. When you set breaks, use that time to check on the news.
6. Don't Forget to Socialize
When you suddenly start working from home, you're cutting off casual social interactions you used to have with colleagues.
Combat this by talking with your coworkers throughout the day through work software tools. If you usually ask your coworkers about their weekends or other topics of interest keep asking. Scheduling a morning video call to kickoff with the team is a good option too.
All this doesn't just apply to the workday or people you work with. You might not be able to meet up with friends for dinner after work, but you can coordinate and organize a group of people to discuss a TV show or book using the multitude of virtual options available now.